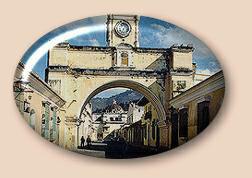 As the capitol of Guatemala before Guatemala City, Antigua is a pretty little city spread out in lovely landscape. It houses beautiful, thick-walled churches and cathedrals, and many other impressive colonial structures. Picturesque, volcanoes offer a dramatic backdrop to cobblestoned streets and pastel-painted houses.
The Old Capitol is one of the most popular tourist destinations for world travelers coming to Guatemala, as well as other Guatemalans. The main part of town is about seven or eight square blocks and, other than the churches and a few other architectural curiosities, is mostly filled with tourist stores, services and restaurants. Hundreds of visitors crowd this central area of town; it feels like something one would see in a custom-made, mini community of Southern California in the United States. The weather is very agreeable, and there are restaurants with charming patios and big open doors.
Antigua is pleasant, but has no feeling of a real city like Quetzaltenango; the lack of indigenous people and clothing is obvious. Other than its surface beauty, it does not hold the kind of deeper fascination that some have for the culture which is unique in Guatemala. However, the annual international cultural fair is being held this week, and it should be interesting. There are events around town throughout the day, ranging from orchid shows and folklorico from countries such as Costa Rica, to discussions on ecology of the rain forests in South America. This afternoon a recital of the National Marimba Corps will be given that some say is excellent.
* * *
I toured the main part of town and its periphery, hearing that there had been incidents of robbery away from the central section. After lunch, I took a walk to Parque Central, where groups of children were everywhere. Twenty-two grammar schools from the Capitol were visiting for the day to attend a dance recital, which is part of the cultural festival. One large, particularly loud group of girls flocked around two tall, blond, Danish tourists who had a Walkman with two tiny speakers, and were playing a tape of heavy metal rock and roll for the students. The little girls were mesmerized by the technology; they were becoming more and more excited by the minute. I took a photograph, and was suddenly swarmed by other children screaming for me to take one of them. I took a couple, closed up the camera, and strolled around the park.
The groups of kids were frenzied with the excitement of their field trip. Between the American music and my camera, a few groups became almost riotous. The Danes played a game of tag with a large stampede of screeching, gleeful girls while I watched a bunch of first and second-grade boys horsing around in the dirt, destroying their clean school uniforms. Pulling out my camera to get a shot of this abandon, the boys all crowded together, hilariously fighting for front-and-center position. A girl scooted up and tugged at my shirt, saying she wanted to be in the picture. I looked down at her and said, "Only the boys in this one." She looked at me, hung her head and moved away. The boys and I were all laughing and I snapped a frame.
I then happened to glance over to where the girl had moved, and could see the beginnings of tears in her eyes. I walked over, put my hand on her head and asked her to forgive me. She looked up with deep, large eyes and a slow smile began to bloom. At that moment, a woman was passing by with a wide, flat basket of fresh, sliced watermelon balanced on her head. I bought a beautiful piece and gave it to the tearful girl. She accepted timidly as her clouded face cleared into a huge, angelic smile. She then broke the piece into three smaller ones and gave two pieces to her classmates. Her quick generosity was inspiring. I turned back to the watermelon woman and bought eight more slices, handing them out to the crowd of kids around us. I had to tell a couple of the raucous boys to share their pieces with the others, but everyone else seemed to share their treats freely.
The afternoon turned into a blazing cloud of bright uniforms, dark shining heads and beaming smiles